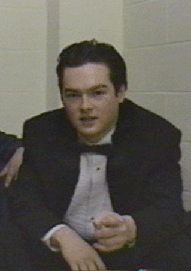 Dr. Zu
Height - 5'10"
Weight - 175 lbs.
Hometown - New York, New York
Signature Moves - The Zunation, The Zu Bomb
Stats - 0 Wins, 2 Losses, 2 Tag Team Wins
Dr. Zu got his doctorate in professional wrestling at That Wrestling School with his thesis Reality Chokehold: The Socioeconomic Ramifications of Jobbers. Armed with his extensive knowledge of wrestling and its theory and culture, Dr. Zu became one of the top sports entertainment announcers in the business. After receiving several tempting offers from many of the top federations, he chose the WWC. He was partnered with Comrade Bren, who would also become his tag team partner in several matches. The first time Dr. Zu entered the wrestling ring was at Kickin' Ass on the Grass II. He and Comrade Bren fought The American Poster Boy and Major Threat. Encouraged by this win, Dr. Zu went on to try for the Heavyweight Championship against Hank Newcastle in the fall of 1999. His loss and subsequent bad mouthing of Hank led to him being fired from his announcer position. Dr. Zu continued to plague Hank by refereeing WWC matches. He was reinstated as WWC announcer after defeating Hank in a tag team match at Christmas Slay.