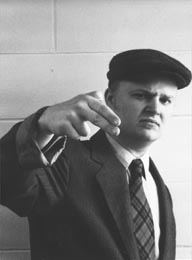 Hank Newcastle
Height - 5'6"
Weight - 164
Hometown - Batavia, NY
Signature Moves - 180 Executive Elbow, The Executive Decision Maker, The Executive Back Breaker.
Stats - 5 wins (disputed), 5 losses (disputed), 2 Tag Team Losses, 1 Tag Team Win
One time WWC World Heavyweight Champion of the World (disputed)
As Head of the WWC Executive Committee, Hank Newcastle has earned his reputation as "The Hardest Working Man in the WWC." An always controversial figure, it is Hank's job to maintain order as he sees fit. Some of his more infamous decisions include crowning himself Heavyweight Champion after the Beetle/Fatt Devn debacle of 1999, his firing of popular WWC announcer Dr. Zu, and his strict enforcement of the WWC's drug policy with the assistance of his special enforcer, Major Threat.
Hank was fired from his position as Head of the Executive Committee after he lost the 2000 WWC Presidential Election to GDP. After assuming his position in power, GDP forced Hank to team up with his longtime nemesis, The Beetle in a Loser Leaves Town tag team match. Needless to say, Hank and The Beetle didn't get along and lost that match. He got one last chance at victory at Kickin' Ass on the Grass III.
Hank was last seen in the Milwaukee, Wisconsin area organizing his own independent fed. Rumor has it that he has been spotted freelancing for various indie promotions across the country under a variety of creative pseudonyms.