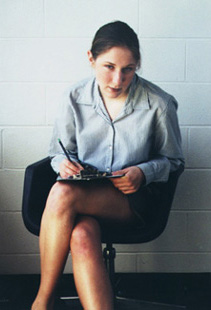 The Professional
Height - 5'7"
Weight - 102 lbs.
Hometown - Wall Street/The Combat Zone
Signature Moves - The Ball Crusher, Low Blow, The Glass Ceiling
Stats - 2 Wins, 3 Losses, One time 5 College Champion
The Professional spent her early years in a middle class suburb of New York as a hardworking business student with a minor in women's studies. After graduating from school, she worked for an economics firm with a thirst to make it to the top. She soon realized that to make it to the top, she had to start at the bottom and so began her career in the red-light district. Even though she worked in the midst of sleaze by night, The Professional still kept her job on Wall Street by day.
She has since pissed off 99.44% of the women's rights activists at Hampshire College and made a career of proving that crime does pay (and pay very well). The Professional made her first appearance in the WWC at Christmas Slay, where she gave Elvis the Low Blow and stole his 5 College Championship belt. She officially won the belt at Kickin' Ass on the Grass III, where she vanquished Li'l Hitler.