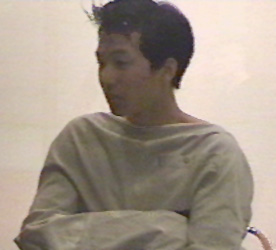 Hot Pockets
Height - 5'8"
Weight - 130 lbs.
Hometown - Unknown
Stats - 1 Wins, 0 Losses
One Time WWC World Heavyweight Champion of the World
Hot Pockets was discovered in the supermarket by wrestler Greg Grundle. He was chewing on frozen Hot Pockets. He likes them cold. Grundle took him aboard as his sidekick and dubbed him Hot Pockets. However, it wasn't long before his past caught up with him. Apparently, Hot Pockets had escaped from a mental institution and the men in the white coats came to take him away. Recently, Hot Pockets has appeared with Galacticor, acting as his sidekick.
In a controversial turn of events, Hot Pockets won the WWC World Heavyweight Championship of the World at Christmas Slay, when in the middle of a brawl, he found himself on top of The Beetle. He didn't defend his title in the required amount of time, however, and it went to the number one contender, Elvis Aaron Presley.