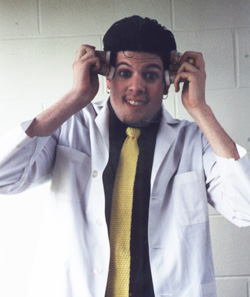 Mal Practice, the Physical Pharmacist
Height - 6'4"
Weight - 190 lbs.
Hometown - Woonsocket, RI
Signature Moves - The Written Prescription
Stats - 2 Wins, 1 Loss
As a doctor and professional pharmacist, Mal Practice got sick and tired of people demanding drugs without any money, without a prescription, and without a condition. Sometimes, he got so sick and tired that he had to get, well, physical.
His first match in the WWC occurred when Hunter S. Thompson showed up looking for mescaline when he hadn't paid his outstanding bills. After a cup of raw ether in the face, Hunter didn't have too much fight left in him, and Mal slapped him silly.
The Physical Pharmacist's lanky frame is a force to be reckoned with. When he isn't filling prescriptions or running from the WWC drug policy enforcer Major Threat, Mal enjoys dying his hair green and reading the Marquis de Sade for wrestling tips.