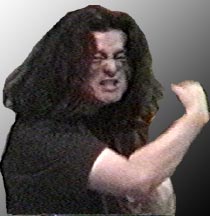 Big Papa Smurf
Height - 5'7"
Weight - 200
Hometown - Smurf Village
Signature Moves - Smurfberry Crunch, Ultra Smurfalicious Booga Brownie, Smurfberry Juice Mist
Stats - 2 Wins, 2 Losses
Current WWC Five College Champion, current HCW Champion
Originally, Big Papa Smurf was called Violent Smurf, due to his freakishly large size and freakish strength. After Gargamel killed Hefty, he snapped and killed him and his little cat. The other smurfs kicked him out saying he was too violent. "You give a guy a name like Violent Smurf! What do you expect?" After being thown out, he tried to join a frat and got laughed out. He managed to get into the API but was never initiated. Through them he learned of the WWC.
After the WWC disbanded, Big Papa Smurf stopped by the Hampshire College Campus to see what the deal was with the new upstart league, the HCW. El Nastico, desperate for a new challenger for the HCW Championship Belt, granted him a title match. The Big Blue Monster managed to win the match, and quickly turned on his new HCW pals and joined GDP's newly reformed WWC.