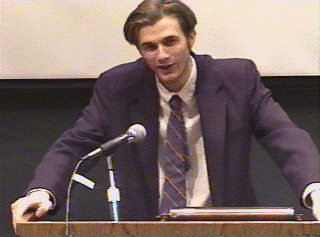 Dick Turpis
Height - 6'3"
Weight - 198
Hometown - Atlantic City, New Jersey
Gum of Choice - Wrigley's Spearmint
Stats - 0 wins, 1 Loss
Dick Turpis, formerly the wrestler "The Morose Bastard," retired from wrestling for life after losing one too many matches in record time. However, Dick got right back on the horse, returning the following day as a manager of upcoming talent. His Loss at Kickin' Ass on the Grass I led him to his estrangement with his tag-team partner, The Beetle. Since that time, their rivalry has reached biblical proportions.
Among the wrestlers he has managed to manage are such noteworthy names as the WWC's fist World Heavyweight Champion, Fatt Devn the Napefucker, the WWC's oldest wrestler, The Old Geezer, and the WWC's most androgynous wrestler, "Wrasslin'" Janet Reno. With the deaths of the former two and the disgraceful defrockment of Reno, Dick Turpis has retired for good in Atlantic City where he works to perfect the art of the three martini lunch.