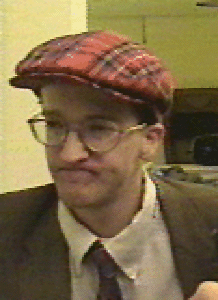 Superslam Stanley, The Old Geezer
Height - 5'5"
Weight - 115 lbs
Hometown - Boston, Massachusetts
Signature Moves - Airplane Spin, Gorilla Press Slam, Indian Burn,
Stats - 1,046 wins, 574 Losses
Stanley Oldman was born in 1910. By the age of fifteen, he had already established himself in a local boxing circuit. He spent a few years jabbing with the palookas, but by the time he reached adulthood, he wanted something more. He had heard about a small amateur professional wrestling collective that was just starting up in the valley. That collective would be known as the WWC. Stanley wrestled in the WWC as "Superslam" Stanley, known for his impressive feats of strength in the ring. In his prime he weighed 296 pounds and was able to press twice that. He held the Hampshire County Heavyweight Championship five times between 1933-1936 before he retired from wrestling in the early forties. During the War, "Superslam" Stanley became known as Sergeant Stan. He led a regiment called the Screaming Howlers and specialized in impossible suicide missions. Sergeant Stan never lost a single soldier. He was forced to retire from the military in 1958, after being hit with grenade shrapnel while he was trying to save "Happy" Herbert Hogan, one of the Screaming Howlers. The operation to save his life resulted in a steel plate in his head. He returned to the world of amateur professional wrestling in the 1970's, not as a wrestler, but as a trainer of up and coming wrestlers, including Elvis Presley. He retired from training in the eighties. Then, in 1999, Dick Turpis brought "Superslam" Stanley out of retirement to join his gang. He was brought in as a replacement for The Beetle who refused to join. Turpis was confident in Stanley, dubbing him "The Old Geezer" and declaring that "Wrestling is not a sport of the body, but a sport of the mind, and his mind is as sharp as the day the stock market crashed in 1929." Stanley went on to prove Turpis correct by defeating The Beetle. Sadly, that was to be his last match in the WWC, as several months later, while guest commentating a match between Hank Newcastle and Greg Grundle, "Superslam" Stanley died suddenly. His legacy will live on in his fans, and the wrestlers that owe their livelihood to this great man.