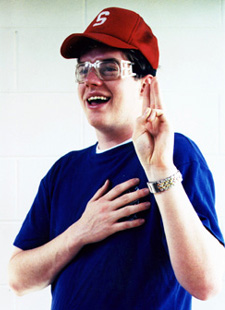 Scoutmaster Lewis
Height - 6'0"
Weight - 160 lbs.
Eye Color - Blue
Favorite Village Person - The Indian
Hometown - Provo, Utah
Signature Moves - The Bad Touch, The Indian Burn, The Book of Mormon, The New Adventures of Jesus Christ Paper Cutter, Safety Scissors Sweep
Stats - 2 Wins, 2 Losses, 1 Draw
Honor. Integrity. Teamwork. Scoutmaster Lewis lives by all those values. Cornelius Lewis Weisman is the only son of a pumice rock miner and heralds from the great state of Utah. A devout Mormon, you can find Lewis spreading the faith in local neighborhoods.
"I love the adrenaline rush that is Christianity . . . when you convert someone . . . well, golly, it makes me feel all warm inside, and well, if the Devil doesn't like it . . . then . . . by god! He can sit on a tack!"
Scandal has marred much of Lewis's adult life. In the early 80s, he rose to become Scoutmaster for Troop 103, based in Provo, Utah, but was stripped of the position after accusations of being overly fond with his scouts surfaced.
"At the end of a long day, I just miss roasting marshmellows with the little scouts. We used to make Smores, and when they wanted more, they would ask if they could have 'S'more.' We all used to laugh about that one. Good times!"
When not wrestling for the WWC, Lewis can be found driving his white Econoline van around school zones.