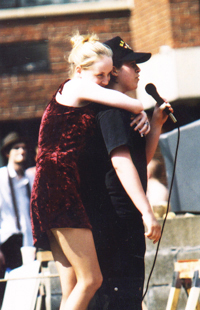 Big Gay Pimp
Height - 5'3"
Weight - 145 lbs.
Hometown - San Francisco, CA
Stats - 1 Win, 0 Losses
Big Gay Pimp made her debut at Kickin' Ass on the Grass III, accompanied by her valet, Barbarella, Queen of the Rumble. In her New Blood Initiation Match, she made short work of her opponent Hunter S. Thompson. She's here. She's queer. And she's open for business.