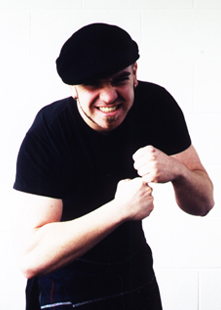 The Highlander
Height - 5'9"
Weight - 195 lbs.
Hometown - Glen Coe, Scotland
Signature Moves - The Caber Toss, The Pump Handle Slam
Stats - 0 Wins, 3 Losses, 2 Tag Team Wins
From the rolling hill country of Scotland, a strapping young fighter came, set on making a name for himself in a far away land. Three simple words were on his lips..."I wanna wrestle!"
Thus was how this kilted Scotsman came across the pond and landed in the WWC. Don't laugh at his skirt, for he is as tough as they come. When The Highlander isn't dropping flying elbows on his opponents' spinal columns, or teaming up with Das Eurotrash as the European Union, he enjoys restoring classic autos, caber tossing, and slamming back pints of Skull Splitter. Aye, laddies. This one's not to be trifled with.