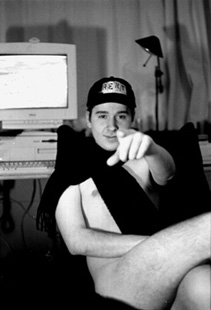 Clive Cockburn
Height - 5'10"
Weight - 150 lbs.
Hometown - San Francisco, CA
Signature Moves - The Cockburn Clutch, The Melting Hug
Stats - 7 Wins, 2 Losses, One time WWC World Heavyweight Champion of the World
Clive Cockburn hails from the cosmopolitan city of San Francisco where he was a founding member of the Bay Area New Approach Dance Troupe, as well as being a vocal member of the community. In 1996 he split from the group citing a need to find something more physically rewarding and a desire to return to his first love, professional wrestling.
In the spring of 1999, Cockburn relocated to the vivacious community of North Hampton, Massachusetts in order to be closer to friends and to wrestle in the WWC. Since that time he has made a strong impression on those he has come in contact with.
Cockburn has also stirred up quite a bit of controversy since stepping into the squared circle. This is partially due to his Greco-Roman ethos and also his startling announcement of his "out and proud" vegetarian lifestyle, which sent shockwaves throughout the wrestling community.